My thoughts behind Hull KR TV and its nomination for a prestigious Royal Television Society Award
I've been actively developing Hull KR TV since it?s launch in 2010, so to find out it has been nominated for an award is fantastic news!! I couldn't be happier about it.
When Hull KR TV started out it was much like most sports TV channels in that it had pages containing flash videos and that was it really. Hoverever it was already standing out from the likes of Hull FC TV. The reason for this when Hull FC TV was created it was cutting edge, but that was going back a few years technology had moved on and so much the system that would power Hull KR TV.
The old system was static it was hard to update and not very flexible I decided to start from scratch and build a fully dynamic database driven application that could cater for the fans and be flexible enough to adapt as the site grew.
I built the new system that was fed directly from a database this enabled the pages to be created and edited on the fly. this meant when a page needed to be added I didn?t need to be contacted the manager of Hull KR TV could simply go into the website?s administration and fill in a form and then have a page generated for them.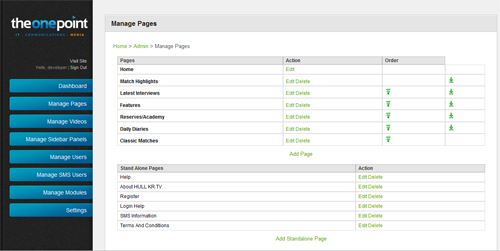 The image above shows how organised the system behind Hull KR TV is, each page can be tweaked as needed or even reordered by click on the up or down arrows.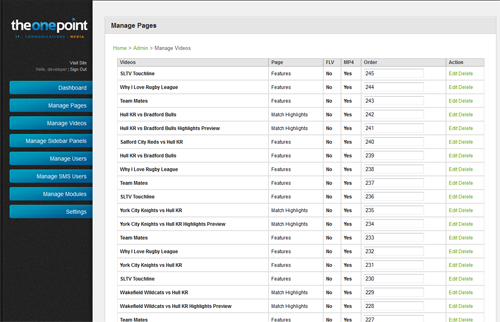 Likewise with managing videos is a very simple process, at a glance the administrator can see what page a video is on, what type of video stored and what order the videos are displayed, again this can be changed very easily.
I believe the simplicity of managing all of Hull KR TV's contents and the superb videos been filmed and edited by Eon Media are some of the reason's it's been so successful.
More recent developments included premium videos that can only be seen if logged in, at first this was exclusive to Team Card members only but there we?re fans that wanted to access these videos that didn't have a Team Card so I built in a SMS subscription service enabling anyone to subscribe to Hull KR TV on a monthly basis giving them full access to all areas.
Another addition I discussed with Eon Media was the ability to enable videos to be available when flash is not available such as on an iPhone or iPad which led me do further developing the system that will show a user a flash video if there is a flash video stored and their device can support it, if their device cannot support it serve a non flash video instead.
These changes have had a positive impact on the site's user base, with fans support and technology moving forward I see further developments coming in the future.
Did you find this article valuable?
Support David Carr by becoming a sponsor. Any amount is appreciated!